TWO GREAT OCEANFRONT LOCATIONS: The Shores Club (2 condos), Peck Plaza (2 condos)
The Shores Club - two vacation options:
#601 3-bedroom, 3-bathroom (sleeps up to 8)
#1007 3-bedroom, 3-bathroom (sleeps up to 8)
Direct Oceanfront Luxury Condominium Accomodations
The Shores Club in Daytona Beach Shores, Florida is a direct oceanfront condominium located on a pristine, quiet no-drive beach. Both 3-bedroom condos feature spectacular ocean views from the large balcony, master bedroom, living room, dining room and kitchen. The second and third bedrooms and back balcony feature wonderful sunset views of the Halifax River and the Intracoastal Waterway. Come and enjoy a week, month or longer in these spacious and beautiful condos. Sorry, no single night rentals - minimum weekly rental or longer. Click on the page links in the right hand column for more information on amenities, rates, nearby activities, photo gallery, reservations, directions and guest comments.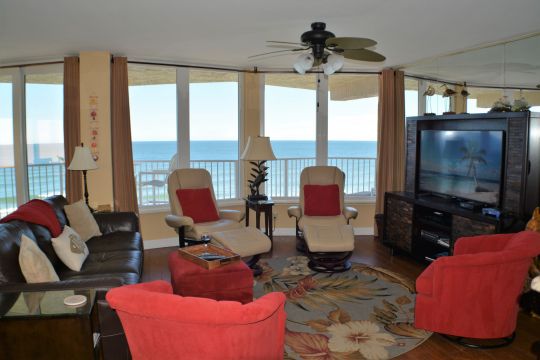 Shores Club 3-Bedroom Condo #601 - 6th floor

Shores Club 3-Bedroom Condo #1007 - Panoramic ocean views in this 10th floor condo
Peck Plaza - Two vacation options:
#17SE - 3 bedroom, 2.5 bath (sleeps up to 8)
#18SW - 2 bedroom, 2 bath (sleeps up to 6)

Peck Plaza 3-Bedroom Condo #17SE - 17th floor
Peck Plaza, also in Daytona Beach Shores, in a unique round building with only four condos per floor. Peck Plaza just completed a $13+ million building renovation, including all new windows and patio doors, new roof, new fire safety system and everything in the building is up-to-date meeting current building codes. It has fabulous ocean front views and views of the Intracoastal Waterway/Halifax River. There are three bedrooms and 2 and a half bathrooms - sleeps up to 8 people. There is a nice heated swimming pool, hot tub, tennis court and of course steps right down to the beautiful beach! There is a dedicated garage parking space under the building, plus outside parking right by the condo building.
Peck Plaza 2-Bedroom Condo #18SW - 18th floor
The sunset views over the Intracoastal Waterway are the star view of this condo, in addition to some ocean views. This 2-bedroom, 2-bathroom, 1200 sq ft. was just completely remodeled. It's perfect for 2 people that want a private bedroom and bathroom, 2 couples or a small family.

Peck Plaza 18SW - 2 bedroom

All condos offer:
Right out the door: Spend your day on the beach, at the heated swimming pool, or exploring the area. Or, do nothing but watch the dolphins or even a whale from your own private balcony. The beach is beautiful compact sand perfect for walking, biking, running or building sand castles. The rolling waves are ideal for surfing or just playing in. It's a short walk on the beach to the Sunglow Pier (from Shores Club) where you can fish, watch the surfers riding the waves or enjoy a nice meal at Crabby Joe's restaurant sitting out over the ocean. At Peck Plaza, take the elevator to the 29th floor to the Top of Daytona restaurant with 360 degree panoramic views.
Within biking distance: Ponce Inlet is only 4 miles away from Shores Club with its 52-acre Lighthouse Point Park with hiking nature trails, fishing, and swimming. Next to the park you can climb to the top of the historic Ponce Inlet Lighthouse, the tallest lighthouse in Florida. Right across the parking lot is the educational and fun kid-friendly Marine Science Center with an aquarium and sea turtle and seabird rehabilitation. Numerous restaurants on the Intracoastal Waterway provide a chance to see manatees and spectacular sunsets over the water. Within a mile is a kayak trail/canoe trail. Nearby are boat rentals, parasailing, jet ski rentals and charter fishing just to name a few activities.

Tourist Attractions and Activities - Daytona Beach Area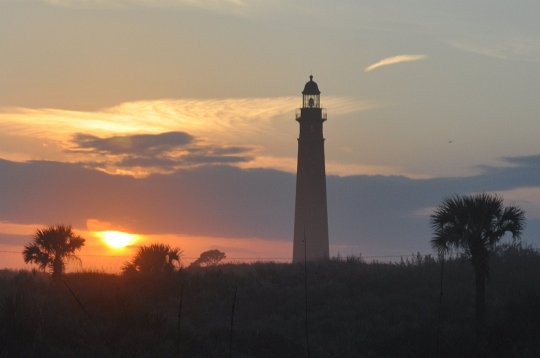 The Shores Club & Sunglow Resort are located approximately 15 minutes from Daytona International Speedway (home of the Daytona 500) and a 10-minute drive will take you to the "downtown" Daytona Beach area. There you will find the famous Daytona Boardwalk Amusement Area & Pier, the new Ocean Walk Village area, restaurants, shopping, a water park, miniature golf, movie theatres and many other activities. The area has many nice golf courses, including the renowned LPGA International Champions Course and Legends Course. Just an hour away is all the excitement of Orlando including Disney World, Sea World, Universal Studios and much more. Historic St. Augustine is only 65 miles to the north. NASA Kennedy Space Center, Cape Canaveral National Seashore, Merritt Island National Wildlife Refuge and the Cape Canaveral Cruise Port are just 50 miles south of Daytona Beach Shores.